Dispatches From Maine
tagged me a couple of weeks ago. He challenged me to recommend three of my books which are unfamiliar to most. This is particularly difficult because I read a lot of bestsellers and popular fiction. I had to hunt high and low for these suggestions.
What The Shadow Told Me
, by Kurtis Davidson: This is a complex and engaging story
about a story, its author and the small universe of characters that surround him. The concept was fresh, yet full of Borges-like twists and turns. Rufus Walter Eddison, America's greatest African-American writer, dies suddenly. His editor, Justina Patterson, is left scrambling to find the manuscript to his second novel before an unscrupulous senior editor at her publishing company can generate a fake to be passed off as the work of the dead genius. Justina has been brought up to revere the famed author, as has all of America and most of the world. The only problem is he wrote his great American novel in 1951 and for forty-eight years has failed to deliver the manuscript of the sequel as he was under contract to do. Eddison was so paranoid that his second novel wouldn't live up to the world's expectations that he never even wrote a grocery list after that. Or so it seemed. Justina has to find his book or face grim alternatives.
In the effort to locate the lost manuscript, Justina meets a wide assortment of hilarious characters, which are well-developed and unique in their voices. Among them is Biminim Strimpoonanamam, an Asian man with an unpronounceable name and nearly unintelligible English. Biminim translates novels from English to another foreign language to English for people who speak English as a second language. The result is outrageous translations of great literary works in Pidgin English.
Throughout the novel, the author succeeds in moving the satire effortlessly from the larger to the smaller picture, often with side-splitting one-liners, hilarious dialogue mixed with black humor- all effectively paced within an unbelievable plot. And it is precisely this humor and wittiness that is the novel's narrative engine, maintaining our interest until the last sentence.
Heat: An Amateur's Adventures as Kitchen Slave, Line Cook, Pasta-Maker, and Apprentice to a Dante-Quoting Butcher in Tuscany
, by Bill Buford: Most of you know I love
to cook, and I love to talk about food. Buford loves it more, so much so that the New Yorker editor took a year off to apprentice in Mario Batali's kitchen and then follow his culinary apprenticeship throughout Europe. Buford tells of his nearly-compulsive need to learn the true roots of Italian cooking and writes intensely detailed descriptions of pasta-making, butchering, animal husbandry, the origin and geography of authentic Italian ingredients and the lives and backgrounds of his Italian mentors. Because of his work at Babbo and his relationship with Mario Batali, Buford did his best to replicate much of Batali's early training in Italy, visiting the same places and working with the same mentors when possible. This is a must-read for foodies and Molto Mario fans alike. Some folks gripe that Buford's narrative pales in comparison to Anthony Bourdain's. I disagree: Buford writes non-fiction like it's fiction and produces a highly readable tome. Bourdain's style is gritty, crude, and base, just like him; his authorial popularity is clearly based on his television notoriety.
The Feast Of All Saints
, by Anne Rice: I actually own and have read everything Anne Rice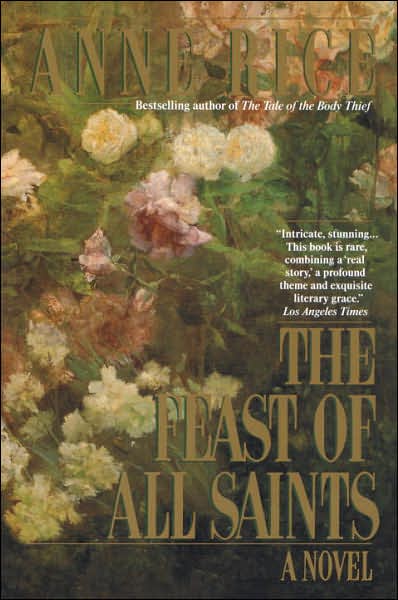 has ever published, from the early erotic novels (published under the pseudonym, Anne Rampling) through The Vampire Chronicles and the latest Jesus story. Having read Rice's entire
oeuvre
, I can appreciate the arc of her voice and talent. I was a big fan of the vampires through the early and middle part of the series, but I grew tired of them towards the end. Those stories became predictable and formulaic.
The Feast Of All Saints
, however, is something entirely different, a novel that really does not fit into the Anne Rice mold.
Saints
is a top-notch piece of historical fiction about a race, a place, and a time rarely covered in fiction. Mind you, I read this book more than 15 years ago – and I don't reread anything – but this novel has stayed with me more than almost any other book I've read. From the back of the book:
In the days before the Civil War, there lived a Louisiana people unique in Southern history. For though they were descended from African slaves, they were also descended from the French and Spanish who had enslaved them. They were the

gens de couleur libre

--the Free People of Color--and in this dazzling historical novel, Anne Rice chronicles the lives of four of their number, men and women caught perilously between the worlds of master and slave, privilege and oppression, passion and pain.
What I loved about this book was the lush realism Rice infused into each of her characters. This is an incredibly vivid painting of an entire world that is as foreign and fascinating to our modern minds as any fantasy creation. Rice has an amazing ability for doing this – constructing entire universes complete with an endless number of lifelike characters. The subject matter is difficult. This book is about the lives of several people of color living in a world where their race is an unshakeable part of every daily interaction - demeaning, galling, and always present. Rice addresses these issues carefully and sensitively. The hardships encountered by the g
ens de couleur libre
are the core storyline of the novel. In the end,
Feast
is a sympathetic account of people living in a culture and lifestyle that has been gone for more than a century.